We are excited to announce the launching of our professional website!  In additional to our Consumer site at NeoGenesis.com, we now have a site designed for licensed professionals in the UK at NeoGenesisPro.co.uk.  After a short and easy registration process, and once you are approved, you will have access to beautiful marketing materials, co-branding opportunities, science, videos, and online ordering.  24/7 access to everything you need to run your business.
[foogallery id="20788″]
Registration
We've kept registration simple for you.  We ask for the basic information, along with your professional license number and your state resale license number, if you have one.  Once you submit this online form, it will take 1-2 business days for approval.  We would love to take you on a 15 minute tour of the site to show you all that is available to you.
Contact your Account Manager or our Customer Service at 001 858 751 4714.
Access
Once approved, you'll have access to a site that includes more information on treating conditions, products, the science behind the NeoGenesis patented technology, white papers, reviews, and incredible sales support.
Sales Support – Fantastic Marketing Tools for You!
By hovering over the Sales Support in the menu, you will see the three sections of information available to you.  We will be continually updating this section with new material for you.
Print Material – Everything in this section is already formatted for you to use in your print material. You may print our brochures, find examples of co-branding opportunities, ready to use Posters, our Before and After examples, Sell Sheets, Shelf Talkers in 3 sizes, and our newest addition of Shelf Talkers in a Business Card size to create appointment cards, calendars, product information, or whatever you can think of!  This is where you can get very creative.  We would love to hear your ideas.
Website/Social – This section is comprised of the same info but in a format for you to use immediately online. This is a great way to have beautiful information to post to your Facebook page, Twitter feed, Instagram, or any other social media program you use to drive business to you.  All of the images may be used on your website and shopping cart as well as Videos for your use.
Sales Support – Here you will find order forms and Professional Protocols using the NeoGenesis products.
We want to know your ideas!  If you have marketing needs that are not addressed, please let us know.  We are committed to providing you with the materials you need for your clientele.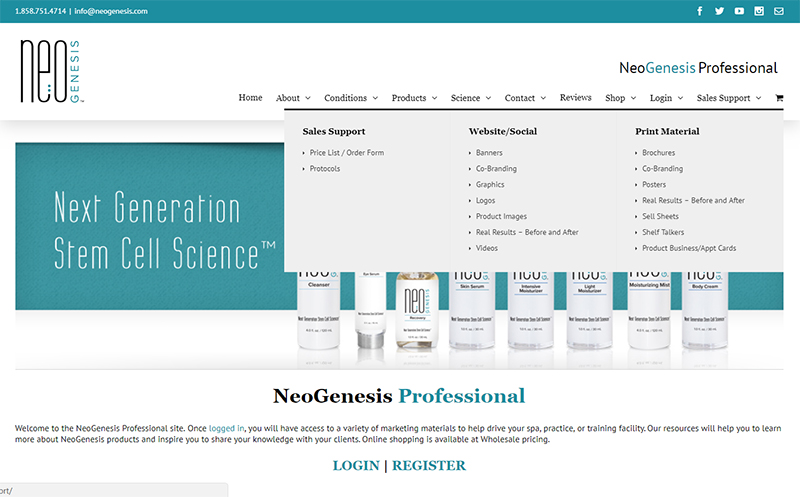 Shop: Quick Order Form
Once you know which products you would like to order, we have included a Quick Order Form, found under the Shop link on the menu. The Quick Order Form is the fastest way to order and has conveniently listed the products by product, then by size. For example, all of the Cleansers will be together with the smallest size listed first, on to the largest size. All you need to do is find the product you want to order (you may type it in the search bar to pull it up), decide which size you want, put in the number you would like to order, and click on the Add to Cart tab and that product is added to your cart. When the first product is added, a new window will open to the right where you can see the cart totals. When your order is complete, click on the Checkout to complete your order.
Please note you will have the option of shipping the order to a different address if needed.
For a more detailed description of the products, you may select the Country you are located in under the same Shop link. Each product in this category has a complete description of the product, the sizes available, and the ingredients.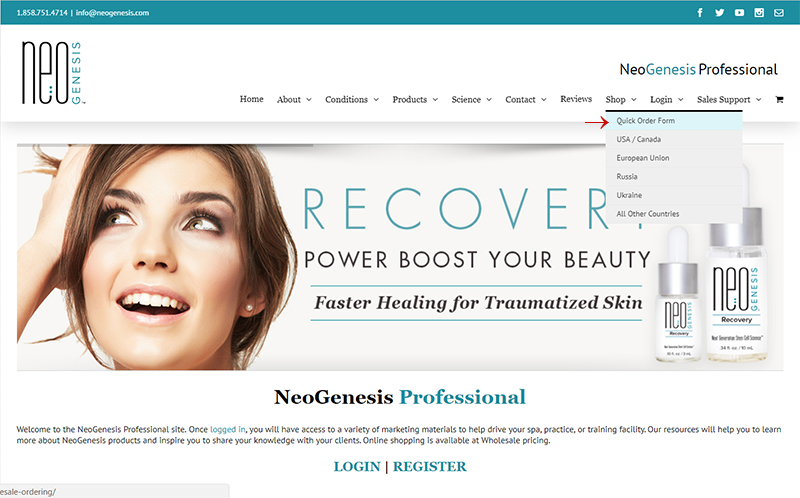 We invite you to get started by visiting the new site at NeoGenesisPro.co.uk.  There will be a Login on the right side of the menu, and a Login/Register link on the first page.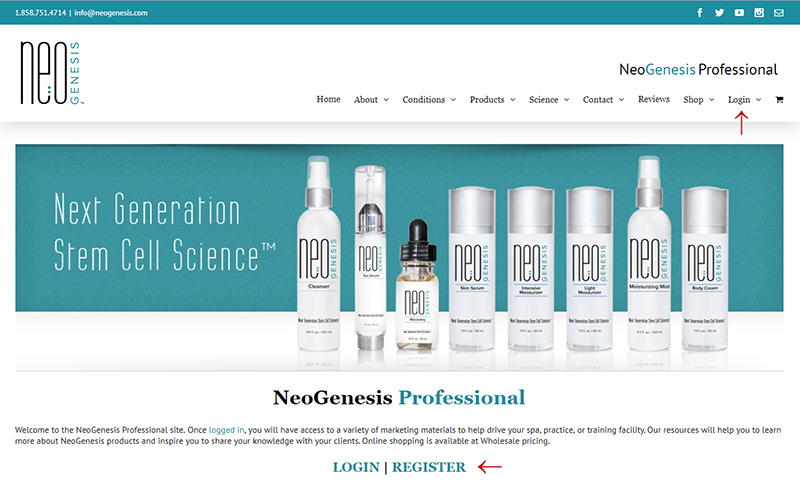 Here is what the Registration page looks like.  This form is super easy to complete and takes only a couple of minutes.  The red * are the fields that must have information in order to register.  Once you've submitted your form, we will get back to you in 24 to 48 hours.
Do you have any questions?  Please contact our Customer Service at 858-751-4714.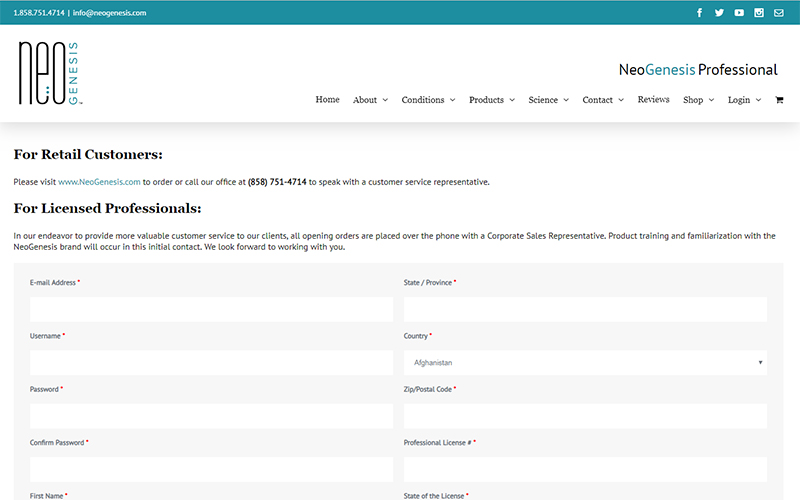 If you're ready to learn more about the NeoGenesis line or want to place an order immediately, contact your Account Manager or our Customer Service at 001 858 751 4714 or info@neogenesispro.co.uk.  We are thrilled to have you here and look forward to working together in our new partnership.

NeoGenesis UK
Phone: 001 858 751 4714
www.NeoGenesisPro.co.uk
info@neogenesispro.co.uk