Beauty/Appearance
Medicine
Dermaplaning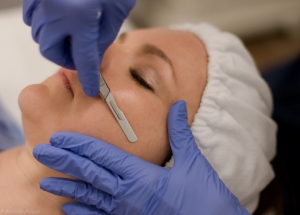 Dermaplaning is also known as Dermal Edge Therapy, Epidermal Leveling or Blading. This is a safe, gentle and effective skin care treatment of manual exfoliation. An extremely popular treatment safe for all skin types, dermaplaning removes the outer layers of dead skin cells and safely removes the Vellus hair known as "peach fuzz". The immediate results are smooth, soft and more radiant skin.
Dermaplane Treatment Explained

A dermaplane treatment is safely performed using a sterile dermaplaning blade which is held against the skin at a 45 degree angle and gently stroked along the skin, similar to shaving. The skin care professional holds the area of skin taught while stroking the skin with the blade, removing the outer micro-layers of the skin and any hair in the area. The treatment is painless and there is no downtime. Products applied after the dermaplaning are absorbed better and monthly treatments will improve the skin. It is recommended to wait at least 3 to 4 weeks between treatments. Contraindications for dermaplaning include those with active acne lesions or excessive oil production. The skin may be slightly pink immediately following the treatment and may feel drier than normal for a couple of days. These symptoms are temporary and resolve quickly.
Benefits of Dermaplaning
Gentle exfoliation (good for sensitive skin, Rosacea, and during pregnancy)
No downtime (return to activities immediately)
Removes Vellus hair, "peach fuzz" (hair grows back as peach fuzz)
Improves softness, smoothness and clarity of the skin immediately
Extremely safe and painless
Using NeoGenesis with Dermaplaning
Apply our most advanced product Recovery, abundant in S²RM® to the entire face immediately following a dermaplane treatment. For additional hydration and healing, Booster or Skin Serum with S²RM® may be used after Recovery. Follow with Intensive Moisturizer or Barrier Renewal Cream to add hydration and protect the skin's barrier. The use of a chemical free sunscreen is important after dermaplaning due to the gentle exfoliation.
For ongoing daily care, apply Recovery, Booster or Skin Serum twice daily, followed by Intensive Moisturizer. Please refer to your Skin Care Therapist for the proper home protocol for your skin type.