FAQ –
Conditions / Concerns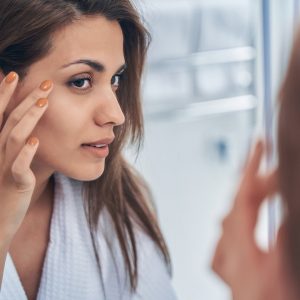 Product Safety
Are there any contraindications for using NeoGenesis products?
No. There are no known contraindications. Our products are safe for all skin types and all skin conditions.
Are NeoGenesis products safe to use during pregnancy or while breastfeeding?
Yes. All NeoGenesis products are safe for pregnant women. Use as you normally would as no changes are needed due to pregnancy or breastfeeding. We recommend consulting your physician prior to using either Mandelic Acid or Salicylic Acid.
Product Usage
Can I use NeoGenesis with other product lines?
Yes. NeoGenesis works beautifully with all other product lines. The key to success is to use our serums first, then layer other products over our serums. Because our patented technology has its own delivery system, it is important to use them first for that delivery system to get into the deeper layers of the skin. Please contact us at customerservice@neogenesis.com for specific usage questions.
Oncology
Are NeoGenesis products Oncology safe?
Most of our products available in the UK, except Salicylic Acid Gel are Oncology Safe. Salicylic Acid is not Oncology safe. We recommend consulting your physician prior to using either Mandelic Acid or Salicylic Acid.
NOTE: If purchasing through our US site, the Enzyme Crème Mask may be used 6 months after completing any cancer treatments, or sooner if approved by your health care professional.
Bruising
Does NeoGenesis have products that help with bruising discoloration?
Recovery and Eye Serum are good for bruised areas to clear the purple and yellow colors in the bruise that are due to heme and bilirubin.
Chemical Peels
How do I use NeoGenesis products after a chemical peel?
The skin is in a more fragile state after a chemical peel and care must be taken to not cause further damage. For a minimum of 2 weeks after the chemical peel, gently cleanse with our Cleanser, spritz the skin with Moisturizing Mist, apply Recovery, and follow with the Barrier Renewal Cream. Use this protocols twice daily. The skin will be dry and peeling. Use Moisturizing Mist throughout the day as needed for soothing relief. Click here to learn more >>
LED Therapy
Can Recovery be used with Red LED therapy?
Yes. You may use Recovery before or after the red light therapy. There is no negative effect to an application of Recovery before the light treatment. Either before or after, Recovery supports a better result from LED therapy.
Mature/Ageing Skin
I'm just beginning to show signs of ageing and want a great serum to begin with. What does NeoGenesis recommend?
We recommend Skin Serum as a daily serum for the first signs of aging. It has an abundance of stem cell released molecules and provides hydration. It is also safe to be used around the eye area.
How long before I see results with Recovery?
While results may vary, from person to person, for overall better texture and skin health, results may be evident in a matter of days. For fine lines, wrinkles and a bit of sagging skin, scars, etc., it may take up to 90 days or longer to see changes in the skin. Continued usage may improve the skin over time using Recovery in your daily skin care routine.
Microneedling
Can Recovery be used with microneedling?
Yes, it can be used before and after, and should be continued twice daily until healing is complete. If skin is very thin and damaged, it is recommended to use Recovery a month in advance of the microneedling treatment for the best results. Click here to learn more >>
Pores
What can be used to minimize the appearance of pores?
NeoGenesis Recovery serum used once or twice daily helps improve the appearance of the pores. Volcanic Ash Mask used weekly can help gently exfoliate and surface skin cells that could clog the pores, making them look larger.
Does the ingredient Isopropyl Myristate in Erase The Day makeup remover block the pores?
No. The ingredient Isopropyl Myristate does not block pores, and is not comedogenic. Erase The Day is a safe and effective makeup remover that features carefully chosen ingredients that are all ranked low in the Environmental Workgroup's (EWG) analysis of an ingredient's induction. NeoGenesis takes great care and research before adding ingredients into all product formulations.
Wound Care
Can Recovery be used on open wounds?
Yes. It may sting slightly due to a different pH level from the open skin/wound. The stinging sensation is normal in this case and only lasts for a few seconds. Click here to learn more >>