FAQ –
General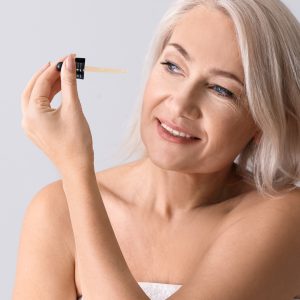 How long has NeoGenesis been in business?
NeoGenesis has been in business since 2015.
Product Safety
Are there any contraindications for using NeoGenesis products?
No. There are no known contraindications. Our products are safe for all skin types and all skin conditions.
Are NeoGenesis products safe to use during pregnancy or while breastfeeding?
Yes. All NeoGenesis products are safe for pregnant women. Use as you normally would as no changes are needed due to pregnancy or breastfeeding. We recommend consulting your physician prior to using either Mandelic Acid or Salicylic Acid.
If a donor has had COVID, and/or the COVID vaccine, can that impact the Stem Cells that are used in NeoGenesis products?
The stem cell types used by NeoGenesis are derived from the skin, and therefore not affected by the SARS-CoV-2 virus given the virus does not infect skin stem cells.
Oncology
Are NeoGenesis products Oncology safe?
Most of our products, except Salicylic Acid Gel are Oncology Safe. Salicylic Acid is not Oncology safe. We recommend consulting your physician prior to using either Mandelic Acid or Salicylic Acid.
NOTE: If purchasing from the US site, the Enzyme Crème Mask may be used 6 months after completing any cancer treatments, or sooner if approved by your health care professional.
How do I use Recovery while getting Radiation treatments?
Recovery may be used twice a day but not immediately before the radiation treatment. First, spray a light mist of the Moisturizing Mist to the area of treatment. Second, apply Recovery to the area. We have Recovery in a spray version which works very well. Last, apply the Barrier Renewal Cream. Do this twice daily. Moisturizing Mist and Barrier Renewal Cream may be used throughout the day as often as needed to combat tightness, dryness and irritation. Some clients have had their Doctors recommend Recovery 3 times a day. Speak with your health care professional about using Recovery with Radiation treatments. Click here to learn more >>
Products / Usage
Can I use NeoGenesis with other product lines?
Yes. NeoGenesis works beautifully with all other product lines. The key to success is to use our serums first, then layer other products over our serums. Because our patented technology has its own delivery system, it is important to use them first for that delivery system to get into the deeper layers of the skin. Please contact us at customerservice@neogenesis.com for specific usage questions.
Are NeoGenesis products organic?
Our products contain no pesticides, synthetic fertilizers, sewage sludge, genetically modified organisms, and nothing has been made with ionizing radiation. We have not used antibiotics or growth hormones. We use ingredients that are "skin identical," meaning the molecules we use are naturally found in our bodies. Therefore the molecules are recognized by our bodies as native, and the body doesn't need to react to them and degrade or export them.
Are NeoGenesis products gluten free?
Yes. All of the products are gluten free.
Is using a Vitamin C serum needed when using NeoGenesis serums?
No, it is not necessary to combine a Vitamin C product with NeoGenesis products. No other added vitamins are needed as the exosomes contain antioxidants. If you love products containing Vitamin C or Vitamin A, for example, you may continue to use them with NeoGenesis products with excellent results.
Is it possible to use NeoGenesis products in conjunction with Vitamin C products?
Yes. There are two ways to use Vitamin C with NeoGenesis serums. One is to always apply the NeoGenesis first, then layer the Vitamin C product afterwards. The exosomes immediately go to work deep within the skin so the Vitamin C will not damage or block the exosomes. The other way is to use NeoGenesis at one time of the day and the Vitamin C at the other time. Example: Vitamin C in the AM and NeoGenesis in the PM.
Can I use prescription tretinoin or retinols with Recovery and other NeoGenesis products?
Yes. When using prescription Retin-A (tretinoin) of any strength, we advise to use Recovery, Booster, or Skin Serum at the opposite time of the day. It is best to use prescriptions alone or with a moisturizer. Using other retinol products, they may be applied at opposite times of the day or apply the NeoGenesis serum first, then layer the retinol product next.
Stem Cells
What kind of stem cells are in your products?
Our products contain molecules from adult human stem cells, that reside in the deep dermal layer and subcutaneous layer of the skin. These are the resident stem cells in the skin that repair and maintain our skin throughout our lifetime.
Where do your stem cells come from?
NeoGenesis gets the tissue that contains the Stem Cells from Tissue Banks within the United States. The tissue is from donors. It is carefully tested and the process is highly regulated by the FDA.
What are the percentages of stem cell released molecules in the NeoGenesis products?
Recovery 70%, Booster 40%, Skin Serum 20%, Eye Serum 10%, Intensive Moisturizer 5%, Light Moisturizer 5%, Moisturizing Mist 1%, Hair Serum 60%, NeoLash 60%, NeoBrow 60%.
How do plant stem cells compare with adult human stem cells?
Plant stem cells cannot influence the cells in human skin. Plant stem cells are beneficial only in that they can work as other antioxidants do, in the fight against free radicals. They have some value as antioxidants, but that capability will break down easily if not stored correctly. Human stem cells release the molecules that have cell to cell communication with skin cells. They speak the same language and are perfectly suited to repair the skin.
Miscellaneous
Does NeoGenesis test products on animals?
Please feel at ease when using NeoGenesis products as we love animals and do not engage in animal testing, nor do our product formulas contain any animal derived ingredients.
Is NeoGenesis Recovery serum safe to use on animals?
Yes! NeoGenesis Recovery serum works well on any cuts, scrapes, surgeries, skin sensitivities, abrasions, and more. A bit of Recovery serum applied to your pets injury will help it heal quickly.
Purchasing
I don't have a Skin Therapist. How can I purchase your products?
You may purchase our products through our retail website at NeoGenesis.com or call our Customer Service at 001 858 751 4714. We can also guide you to one of our skin care clinics that can do phone/video consults if you prefer.
If you have been approved for a Professional account, you can purchase products on NeoGenesisPro.co.uk
How do I become a stockist and get a wholesale account?
You can sign up as a Wholesale Partner on our NeoGenesis Pro UK website: https://neogenesispro.co.uk/registration/
Discounts/Samples
Do you offer discounts or coupon codes?
NeoGenesis does not offer discounts, coupon codes or have yearly sales. What we do offer is 100% guarantee on our topical skin care products so you can purchase with confidence.
We do not offer a money-back guarantee for Erase The Day makeup remover.
Do you offer free samples?
No, we do not offer free samples, but we do sell travel sizes of our products. What we do offer is 100% guarantee on our topical skin care products so you can purchase with confidence.
Return Policy
Can I return my product?
Yes, NeoGenesis has a 60-day satisfaction guarantee on all skin care products. If you purchased your NeoGenesis products from a local professional, please return the product to them for a replacement or a refund. If you purchased directly from us, please call Customer Service at 001 858 751 4714. If we want the product(s) back for any reason, we will send you a call tag.
We do not offer a money-back guarantee for Erase The Day makeup remover.
Due to the nature of hair loss and the many systemic and nutritional causes for hair loss and thinning, we are unable to offer a money-back guarantee on our hair care products, which include Hair Thickening Serum, NeoLash, and NeoBrow. For more information on our hair care products, please contact Customer Service to learn more about the conditions that our hair care products have had success in treating.
Click here to view our full Return policy.