FAQ –
Protocols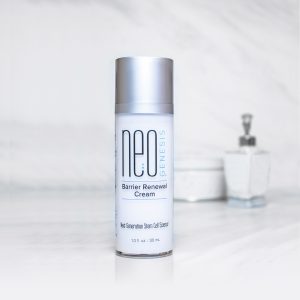 Product Safety
Are there any contraindications for using NeoGenesis products?
No. There are no known contraindications. Our products are safe for all skin types and all skin conditions.
Can I use NeoGenesis with other product lines?
Yes. NeoGenesis works beautifully with all other product lines. The key to success is to use our serums first, then layer other products over our serums. Because our patented technology has its own delivery system, it is important to use them first for that delivery system to get into the deeper layers of the skin. Please contact us at customerservice@neogenesis.com for specific usage questions.
Oncology
Are NeoGenesis products Oncology safe?
Most of our products available in the UK, except Salicylic Acid Gel, are Oncology Safe. Salicylic Acid is not Oncology safe. We recommend consulting your physician prior to using either Mandelic Acid or Salicylic Acid.
If purchasing in the US, the Enzyme Crème Mask may be used 6 months after completing any cancer treatments, or sooner if approved by your health care professional.
Product Usage
Is it possible to use NeoGenesis products in conjunction with Vitamin C products?

Yes. There are two ways to use Vitamin C with NeoGenesis serums. One is to always apply the NeoGenesis first, then layer the Vitamin C product afterwards. The exosomes immediately go to work deep within the skin so the Vitamin C will not damage or block the exosomes. The other way is to use NeoGenesis at one time of the day and the Vitamin C at the other time. Example: Vitamin C in the AM and NeoGenesis in the PM.
Is using a Vitamin C serum needed when using NeoGenesis serums?
No, it is not necessary to combine a Vitamin C product with NeoGenesis products. No other added vitamins are needed as the exosomes contain antioxidants. If you love products containing Vitamin C or Vitamin A, for example, you may continue to use them with NeoGenesis products with excellent results.
Can I use prescription tretinoin or retinols with Recovery and other NeoGenesis products?
Yes. When using prescription Retin-A (tretinoin) of any strength, we advise to use Recovery, Booster, or Skin Serum at the opposite time of the day. It is best to use prescriptions alone or with a moisturizer. Using other retinol products, they may be applied at opposite times of the day or apply the NeoGenesis serum first, then layer the retinol product next.
What can be used to minimize the appearance of pores?
NeoGenesis Recovery serum used once or twice daily helps improve the appearance of the pores. Volcanic Ash Mask used weekly can help gently exfoliate the surface skin cells that could clog the pores, making them look larger.
How do I use NeoGenesis products after a chemical peel?
The skin is in a more fragile state after a chemical peel and care must be taken to not cause further damage. For a minimum of 2 weeks after the chemical peel, gently cleanse with our Cleanser, spritz the skin with Moisturizing Mist, apply Recovery, and follow with the Barrier Renewal Cream. Use this protocols twice daily. The skin will be dry and peeling. Use Moisturizing Mist throughout the day as needed for soothing relief. Click here to learn more >>