Now is the time to prepare for some skin love and radiance on Valentine's Day. Whether going out for a fun evening or staying in for some self-pampering, skin that is clear and glowing will be on the menu. To help your clients with this special day, be sure to let their loved ones know that a gift certificate is the perfect way to show they care. Specially prepared gift bags with fabulous skin care products are a thoughtful gift and introduce your clients to their best home care. Create a special ambiance in the treatment room with fresh flowers and dark chocolate.
Valentine's Day Radiance Facial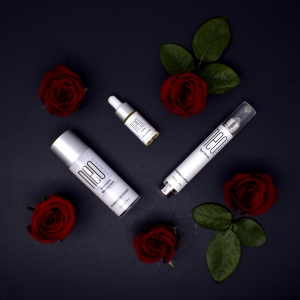 Skin that glows with radiance is the end result of this simple, yet incredibly effective, facial treatment. This perfect facial leaves the skin calm, refreshed, and refined. Fine lines are diminished, the tone is more even, and redness is reduced or eliminated. NeoGenesis products are the key to this transformation as they provide the skin with everything it needs to function optimally. The NeoGenesis skincare product line is good for all skin types, all skin conditions, and has no contraindications. Your clients will benefit from this beautiful facial.
The highlight this month is on our Booster serum. Booster may be thought of as an advanced healthy beauty serum with hydrating properties. Booster contains an abundance of S²RM® at 40% and is supported by additional amino acids and sodium hyaluronate butyrate (HAB). The importance of the addition of HAB to Booster can't be overstated. HAB, an esterification of hyaluronan with butyric acid, reduces the rate of enzymatic degradation of HA. Testing has shown an enhanced resistance to degradation versus native hyaluronan. This new molecule, a conjugate of HA and butyric acid, has a unique lipophilic and hydrophilic balance that helps deeper skin penetration through the skin's lipidic barrier. It plays an important role in rebalancing skin physiology.
Double Cleanse: Take your time with this important step. The NeoGenesis Cleanser is a gel-based cleanser that is gentle on all skin types. A double cleanse provides a mini facial massage and prepares the skin for what is to come. Remove with warm towels. The skin will feel clean and soft.
Exfoliation: If you enjoy using some type of gentle exfoliation in your treatments, now would be the time to introduce the enzyme or gentle acid to benefit your client's skin. Follow recommended procedure prior to moving on the next step.
Eye Serum: The skin around the eyes has its own issues and is often dry, showing the first signs of aging, and in need of nourishment. Apply NeoGenesis Eye Serum by using one pea-sized pump, then gently pat around both eyes for dryness, crepiness, dark circles, and any puffiness. Fine lines and crepiness will soften from the first use. Use throughout the treatment as needed for special care around the eyes.
Recovery: Apply 6 drops of NeoGenesis Recovery and lightly massage into clean skin on the face, neck, and décolletage. The skin will absorb the Recovery immediately as it goes to work to strengthen and balance the skin. Do not remove.
Facial Massage: A beautiful face, neck, and shoulder massage with long upward strokes will relax and renew your client. Using your favorite massage oil or cream, begin your luxurious massage. Facial massage will improve the contours of the face and provide important detox benefits for the skin. It is pure bliss for clients. Aim for 15 to 20 minutes of massage time. Finish with warm towels.
Hydrating Mask: A mask selected for the client's unique skin will add that extra special touch to this facial treatment. Follow recommended usage instructions prior to moving on to the next step.
Booster: Apply 2 drops of the luxurious NeoGenesis advanced healthy beauty serum, Booster. Be sure to include the eye area, neck, and décolletage. Do not remove. The skin is saturated with molecules to repair and provide long-lasting hydration and nourishment.
Hydrate and Protect: Apply 2 pumps of NeoGenesis Intensive Moisturizer to the face and neck to hydrate the skin and protect the skin barrier from the elements. If your client will be out during daytime hours, apply a Chemical Free sunscreen for protection.
This simple but effective facial will have every skin glowing with radiance!
The Perfect Ending
As a final extra special touch, have a gift bag filled with the perfect home care to present to clients. Booster, Eye Serum, and Intensive Moisturizer will allow your client to continue to care for their skin at home. Be sure to add a few dark chocolates and your business card in the bag to put the perfect ending on the beautiful Radiance Facial.
Recommended Home Care for radiant skin all year long:
NeoGenesis brings simplicity and results to all skin types. Using NeoGenesis products, follow this protocol, morning and evening, to maintain the treatment room results at home.
Cleanse the skin using a gentle, non-drying cleanser. We recommend NeoGenesis Cleanser, morning and evening, for all skin types. Perfect in the shower for the body!
Apply NeoGenesis Eye Serum by using one pea-sized pump, then gently pat around both eyes for dryness, crepiness, dark circles, and any puffiness.
Apply 2 drops of NeoGenesis Booster serum (may substitute Recovery or Skin Serum) to the entire face, neck, and décolletage.
Apply 2 pumps of Intensive Moisturizer to the entire face, neck, and décolletage. It is safe and beneficial for any dryness around the eyes.
This simple but effective facial will have every skin glowing with radiance!

NeoGenesis UK
Phone: 001 858 751 4714
www.NeoGenesisPro.co.uk
info@neogenesis.com