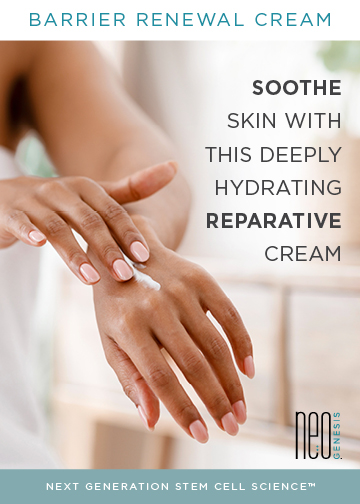 We are pleased to announce that we have launched our latest new skin care product – Barrier Renewal Cream!
At NeoGenesis, we want to ensure that the skin care needs of our customers are being met. We have created Barrier Renewal Cream to pair with our S²RM® serums and other products to naturally heal, repair and renew the skin's barrier.
Barrier Renewal Cream is a lightweight, deeply hydrating and reparative cream that is good for all skin types, including acneic and barrier impaired skin. It is an unscented and non-greasy formula that may be used on dry, sensitive or irritated skin. Skin is renewed and repaired through daily use.
Barrier Renewal Cream may be used immediately after more aggressive treatments, such as laser, peels and microneedling to soothe and hydrate the skin.
BENEFITS:
Designed to repair the skin barrier which improves skin function
Facilitates natural development of stratum corneum by supplying all necessary lipid types to keratinocytes; cholesterol, free fatty acids, and ceramides
Deeply hydrating for even the most damaged skin
Unscented formula appropriate for the most sensitive skin
May be used on acneic skin
Improves the appearance of fine lines, wrinkles and environmental damage
Oncology approved

NeoGenesis UK
Phone: 001 858 751 4714
www.NeoGenesisPro.co.uk
info@neogenesis.com