Your Acne-Focused Skincare Routine Just Got Better
Introducing the new NeoGenesis Salicylic Acid Gel, a superior formula that provides a healthy addition to acne regimens across the board. NeoGenesis has launched this new Salicylic Acid Gel to augment and amplify our existing skin care products made with our patented S²RM® technology. These products will work synergistically, changing the way people think and feel about skin care. NeoGenesis has honed in on the efficacy of stem cell technology in targeting acne. When you combine adult stem cell molecules with the new products for acne-prone skin, you will notice and feel a difference in your skin, or that of your clients. The combination of these two products is what we call skincare synergy!
This salicylic acid is a gentle solution that provides hydrating benefits, without an ester or other salt forms of salicylic acid that can irritate the skin.
REAL RESULTS
Check out these results Annkeit Ssharma of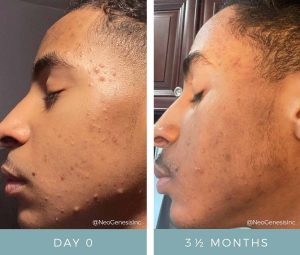 Shamin Skin Care was able to achieve with the NeoGenesis Salicylic Acid Gel in combination with nutrient-rich S²RM® products. With consistency and a proven protocol, acne-prone clients can have hope of transforming their skin, without harsh side effects.
"The tonality of the skin looks a lot more even, looks bright, and there's also a little bit of radiance, more of a healthy aspect to the overall skin tone." – Annkeit Ssharma
What does salicylic acid do?
Trusting the ingredients in your skincare is top of mind for NeoGenesis. Full transparency in skincare ingredients is what sets us apart from other market competitors. So, what makes this Salicylic Acid Gel different from anything else on the market? Let's dive in further!
This powerful yet gentle formula breaks apart intracellular structures on the skin's outer layer, which means it goes to work promoting the shedding of dead skin cells to reveal healthier skin. Most salicylic acids contain harsh alcohols that can be drying and exacerbate chronic skin conditions. NeoGenesis' Salicylic Acid Gel contains hydrating properties that allow the skin to rejuvenate, stay hydrated longer, and say "NO!" to uncomfortable flaking and drying.
With so many salicylic acids on the market, it can be difficult to make the best decision. Not all salicylic acids are created equally, and you should trust that your skincare is working for you, not creating more work for you! NeoGenesis believes in powerful and truthful ingredients. Healthy ingredients matter, and you should know exactly what they are and what they do. The new Salicylic Acid Gel is a healthier and more natural alternative to others on the market, by taking a more gentle approach.
NeoGenesis Salicylic Acid Gel contains key ingredients like Ocamidopropyl Dimethylamine, Propanediol, Hydroxyethylcellulose, Benzyl Alcohol, and Dehydroacetic Acid. For a complete list of ingredients, click here! NeoGenesis uses the finest proven ingredients, without compromise.
So, how will this Salicylic Acid Gel work on the skin?
Salicylic acid is an organic compound that is derived from willow bark. To fully understand skincare ingredients, you must know that there are two types of acids, BHAs (beta hydroxy acids) and AHA's (alpha hydroxy acids).
Salicylic acid is a BHA, which means this complex acid is oil-soluble and works hard to penetrate into the pores of the skin. This makes an effective treatment targeting acne-prone skin. This BHA form is a great exfoliator as well, as it promotes the skin to shed dead skin cells, new and healthy skin is able to reach the surface.
NeoGenesis believes that this new enhancement to acne treatments can and will change the way people use skincare products. Salicylic Acid Gel can be your new hero product to calm irritation and redness for acne-prone skin.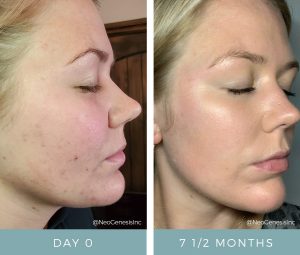 "My skin has felt the best that it has in a long time. I feel great. I am really pleased with my skin." – Julia Minter
Treatment + Photos Courtesy of Professional Partner Mary Reed, Esteem Skin Clinic
Hear it from Julia herself on YouTube here!
Most acne sufferers tend to have oily skin, making salicylic acid the perfect BHA to oily prone skin. When salicylic acid absorbs deeply into the pores that have dead skin and sebum, it removes unwanted debris by breaking down the skin's oils and sebum. It clings onto those oils and removes them from your skin with ease. Additionally, salicylic acid's antibacterial properties allow it to even combat cystic acne when used properly. For example, before blackheads and whiteheads turn into pimples, salicylic acids can dissolve the grime in your pores. When you feel or see an unwanted blemish come up, kick it to the curb and use the Salicylic Acid Gel as a spot treatment!
Now it's time for results! NeoGenesis wants to help professionals, their clients, and people like you achieve life changing results. Grab a couple of NeoGenesis products with our patented S²RM® technology and combine them with the latest acne skincare line enhancements. Your skin will thank you.
Already seeing great results? We'd love to hear from you! Email info@neogenesis.com or connect with us on Instagram and Facebook through direct message. We look forward to celebrating with you.
Click here to learn more about Salicylic Acid Gel