Our intention at NeoGenesis is to help everyone simplify skin care while still achieving dramatic results.  Our product lineup contains key products that deliver on the promise to achieve healthy, radiant skin using our patented S²RM® technology.  Because each person has unique skin care needs, we want you to have choices that deliver the level of support you need for your skin.
We are pleased to announce that we have two new skincare products that are now available to order.
Booster
New to our NeoGenesis serums is Booster.  Booster is our next level anti-aging serum that delivers the S²RM® molecules along with amino acids and sodium hyaluronate butyrate to address all signs of aging, improve skin tone and texture, and enhance collagen production.
This beautiful serum is for those who need more support than Skin Serum with double the amount of molecules to address more advanced aging, sensitivities, and Rosacea.
It has a silky glide and leaves the skin looking refined, smooth and calm.  It is lightly hydrating and works perfectly morning or evening under your favorite NeoGenesis moisturizer.
Glide Gel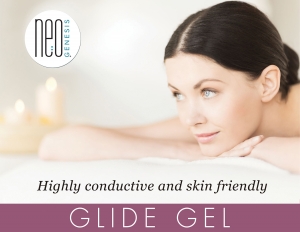 Our second new product is the NeoGenesis Glide Gel.  The Glide Gel is a safe and highly effective conductive gel that works perfectly with any device that requires a glide gel such as Microcurrent or Ultrasound.
The formula is a super clean ingredient deck that all skin types can use.
The most effective way to use Glide Gel is to first apply the NeoGenesis serum of your choice, then brush on the Glide Gel, working in sections.
To rehydrate the Gel, spray our Moisturizing Mist on the area treated with the Gel.  Remove the Gel with a warm washcloth or cotton wipes when finished with your treatment, whether doing a home treatment or in the professional treatment room.
For more information on how to incorporate these two new products into your home care routine or professional protocols, please contact us.  We look forward to serving you and bringing new technology whenever possible to assist your skin care needs.

NeoGenesis UK
Phone: 001 858 751 4714
www.NeoGenesisPro.co.uk
info@neogenesispro.co.uk