Introducing the NEW Barrier Renewal Cream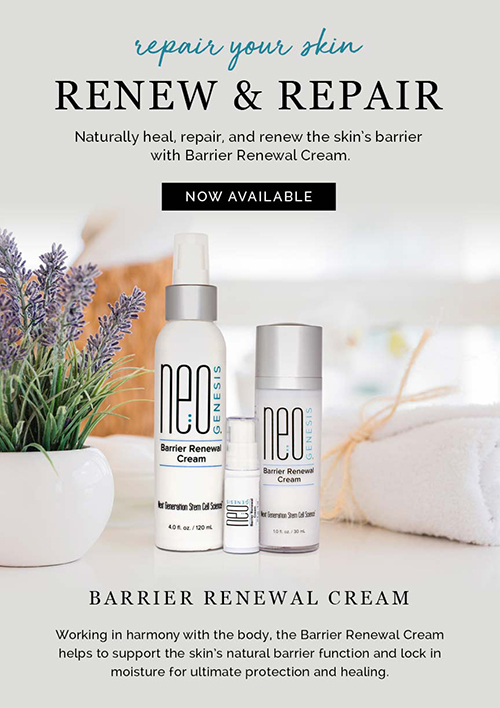 NeoGenesis has created Barrier Renewal Cream to pair with our S²RM® serums and other products to naturally heal, repair and renew the skin's barrier.
Barrier Renewal Cream is a lightweight, deeply hydrating and reparative cream that is good for all skin types, including acneic and barrier impaired skin. It is an unscented and non-greasy formula that may be used on dry, sensitive or irritated skin. Skin is renewed and repaired through daily use.
Barrier Renewal Cream may be used immediately after more aggressive treatments, such as laser, peels and microneedling to soothe and hydrate the skin.
Barrier creams are different from moisturizers in some key ways.  Lipids are a natural part of the cell membrane that is critical in helping the skin to maintain its protective barrier functions. Lipids play a key role in maintaining the smoothness and firmness of skin. Lipids get depleted with aging, and in drier, colder climates, so to truly renew the skin's barrier, 3 important lipids must be included in the formulation.  These are free fatty acids, cholesterol, and ceramides in the right percentages.  These key lipids are in NeoGenesis Barrier Renewal Cream to provide thorough and complete healing to the barrier, allowing the skin to function properly.
BENEFITS:
Designed to repair the skin barrier which stops water loss in the skin
Includes lipids, the skin's natural fats, for complete healing to the barrier
Contains cholesterol, free fatty acids, and ceramides needed to repair the skin
Lipids play a key role in maintaining the smoothness and firmness of skin
Facilitates natural development of the outside layer of the skin
Deeply hydrating for even the most damaged skin
Unscented formula appropriate for the most sensitive skin
May be used on acneic skin
Improves the appearance of fine lines, wrinkles and environmental damage
Oncology approved

NeoGenesis UK
Phone: 001 858 751 4714
www.NeoGenesisPro.co.uk
info@neogenesis.com